The Civilians: Black Feminist Video Game

April 27–30, 2021
The Civilians
Black Feminist Video Game

by Darrel Alejandro Holnes
directed by Victoria Collado
with collaborators Kiran Chitanvis (filmmaker) and Ché Lovell Rose (game designer)
Tuesday / April 27, 2021 / 8 p.m.
Wednesday / April 28, 2021 / 8 p.m.
Friday / April 30, 2021 / 8 p.m.
Talkback with the artists at 9:15 p.m. after the Friday night performance. All are welcome, no matter which night you watch the show. Register below.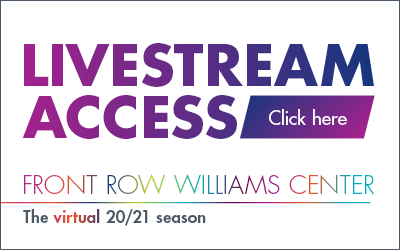 Enter Jonas: a biracial teenager with autism. Jonas broadcasts all aspects of his life online, including a disastrous first date with his crush, Nicole. Desperate to regain her affections, he dusts off a long-ignored gift from his mother—a classic 2D "Black feminist video game"— hopeful that the game will grant him the key to winning Nicole back. But Jonas soon discovers that, with only the Game Master and his friend Sabine to guide him, he must confront his own misperceptions of the women in his (real) life, or risk losing not only the game but also his first chance at love. In this mashup of live performance, video game design, and online interaction, Jonas and Sabine stream their play online, video-chat with each other (and you!), and find their path through the game together. Along the way, you'll help (or hinder!) their progress by responding in real time to the choices they make.
Black Feminist Video Game is written by Darrel Alejandro Holnes, directed by Victoria Collado, and game design by Cookout Games. It follows close on the heels of The Civilians' smash hit Russian Troll Farm, which was heralded by The New York Times as one of the ten best shows of 2020. For this digital premiere production, tech expertise and artistic innovation are once again brought together for a unique online theatrical experience. This production is a national collaboration with presenters 59E59 Theaters, Center Theatre Group, Oregon Shakespeare Festival and co-commissioner Williams Center for the Arts, Lafayette College.
Please note that this is appointment viewing—Black Feminist Video Game will be performed live, starts promptly on the hour, and will not be available to stream on demand at a later time. Please choose your preferred showtime accordingly. The performance is approximately one hour in length.
This production contains strong language and is recommended for audience members who are 16 years of age or older.
Sliding scale livestream access: $5–$25 per household, register here
Lafayette students, log in with your Lafayette email to register.
Friday Night Talkback
Join Black Feminist Video Game writer Darrel Alejandro Holnes, director Victoria Collado, and actors Christon Andell (Jonas) and Kyla Jeanne Butts (Sabine) for a post-performance conversation immediately following the Friday, April 30th livestream performance of Black Feminist Video Game. You'll have the opportunity to ask members of the creative team and cast about the process of creating this unique show! Use this link to register for free for the Friday night talkback with the artists. The talkback will be held on Zoom at 9:15 p.m. EDT.
Questions about how a virtual performance works? Read this.
Accessibility
The Civilians are working with members of the Autistic community, as well as Neurodivergent members within the artistic team, in the development of Black Feminist Video Game to make BFVG an accessible experience for Autistic audiences, as well as others with varying access needs. This includes:
Refraining from jarring or sudden audio and visual cues in an attempt to avoid sensory overload.

Avoiding strobing effects in the design for audiences prone to seizures. 

Creating an Autistic-friendly design when choosing the show's color palette, use of background noise, and consistency of volume levels.     

Choosing a font that is friendly to Dyslexic audiences. 
About The Civilians
The Civilians began in 2001 with a company of artists, led by Founding Artistic Director Steve Cosson, who were interested in making new work at the intersection of the theatrical and the real. They took their name from old vaudeville slang—a "civilian" being anyone outside of show business—and coined the term "investigative theater" to describe their combination of a creative process with field research and in-depth residencies with specific communities. This approach would yield numerous revelatory, exuberant, and critically-acclaimed new plays and musicals. Shows include Gone Missing, with several US and UK tours culminating in a one-year Off-Broadway commercial run; This Beautiful City, about the politicized Evangelical movement; The Great Immensity, the first major American play about climate change; Another Word for Beauty, created from a residency inside Bogotá's national women's prison during their annual beauty pageant; and Pretty Filthy, created from months of immersion in L.A.'s adult film industry. The company also has a rich history of nurturing new work by some of America's leading playwrights and composers, such as Anne Washburn's wildly inventive Mr Burns, a post-electric play, which has gone on to hundreds of subsequent productions around the world and was recently named the fourth best play of the past twenty-five years by The New York Times.
Enjoy Black Feminist Video Game on your screen, wherever you are, as part of our 20/21 virtual season.