Hub New Music / Program Notes

Williams Center for the Arts
presents
Hub New Music
Music and Meaning: An Evening of Performance and Conversation
Wednesday  /  October 7  /  7:00 p.m.
Michael Avitable, flutes
Nicholas Brown, clarinets
Alyssa Wang, violin
Jesse Christeson, cello
with
Carlos Simon, composer
Wendy Wilson-Fall, Chair, Africana Studies, Lafayette College
Jeremy Zallen, Assistant Professor of History, Lafayette College
Program
Carlos Simon (b. 1986)   Requiem for the Enslaved (excerpts)
Invocation
Kyrie (Lord Have Mercy)
where two or three are gathered (interlude)
Librae Me (Deliver Me)
Credo (I Believe)
Gloria
Robert Honstein (b.1980)   Soul House (excerpts)
Bay Window
Alcove
Hallway
Stairs
Landing
Backyard
Driveway
Copper Beech
Secret Place
The Croasdale Fund Concert
WDIY 88.1 FM, Lehigh Valley Community Public Radio, is the radio sponsor for the 20/21 Williams Center for the Arts Performance Series
---
About the Artists
Hub New Music
Called "contemporary chamber trailblazers" by the Boston Globe, Hub New Music (HNM)—composed of flute, clarinet, violin, and cello—is forging new pathways in 21st-century repertoire. The ensemble's ambitious commissioning projects and "appealing programs" (The New Yorker) celebrate the rich diversity of today's classical music landscape. In recent seasons, HNM's performances have been described as "gobsmacking" (Cleveland Classical), "innovative" (WBUR), and "the cutting edge of new classical music" (Taos News).
Highlights of their 2020/21 concert season include performances presented by Arizona Friends of Chamber Music, Williams Center for the Arts, Texas Performing Arts, Celebrity Series of Boston, and Sacramento State Festival of New American Music, as well as its European debut at the Alba Music Festival (Italy). The ensemble will premiere new works by Christopher Cerrone, Eric Nathan, and Carlos Simon, and tour recent commissions by Hannah Lash, Kati Agócs, Takuma Itoh, and Michael Ippolito.
Also in 2020/21, Hub New Music releases its debut album, Soul House, on New Amsterdam Records. On the horizon is the ensemble's sophomore album with Silk Road's shakuhachi player Kojiro Umezaki (Lafayette College '91) and the Asia–America New Music Institute (AANMI), to be released on Tōrō Records.
Hub New Music brings its passion for adventurous and relevant programming to global audiences as both a quartet and as collaborative artists. Recent projects include Matsuri with Kojiro Umezaki and the Asia–America New Music Institute (AANMI); The Nature of Breaking, a 30-minute collaborative work with composer/harpist Hannah Lash;Requiem for the Enslaved, an evening-length mass by Carlos Simon, supported by Georgetown University's GU272 Project, that honors the lives of 272 African American slaves and their descendants; and a choreographed production of Robert Honstein's Soul House with Boston's Urbanity Dance.
For its visionary programming, HNM was named one of WQXR's "10 Cutting-Edge Artists that Have Captured the Imagination" in 2016, and has been featured in major press outlets including the Boston Globe, The New York Times,WFMT (Chicago), The New Yorker, WBUR (Boston), and the Houston Chronicle.
Hub New Music is a group of passionate educators whose approach to teaching melds the artistic and entrepreneurial facets of modern musicianship. Working with student performers and composers at residencies across the country, HNM empowers younger generations of musicians through workshops on building an arts organization, commissioning new work, and developing meaningful collaborations. Residency activities have brought Hub New Music to the New England Conservatory, Princeton, Harvard, University of Michigan, University of Texas-Austin, UC Irvine, University of Nebraska-Lincoln, Stetson University, Bowling Green State University, Boston Conservatory, University of Hawaii, and others. In 2020/21 the ensemble introduces HubLab, a K-12 residency program that uses graphic scores and improvisation to create group compositions with students of all levels.
Hub New Music owes thanks to its supporters including Chamber Music America, the Cricket Foundation, Boston Cultural Council, the Florence & Joseph Mandel Family Foundation, Johnstone Fund for New Music, Amphion Foundation, Mid Atlantic Arts Foundation, and Alice M. Ditson Fund for Contemporary Music at Columbia University. The ensemble's name is inspired by its founding city of Boston's reputation as a hub of innovation. Hub New Music is exclusively represented by Unfinished Side Productions.
Michael Avitabile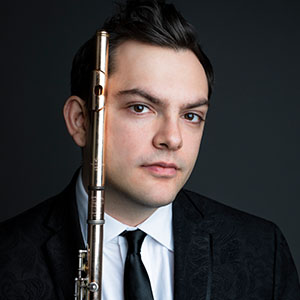 Praised for "elegant and exacting" playing by the Boston Globe, Michael Avitabile is an "enterprising" (The New Yorker) flutist, entrepreneur, and educator. He is the Founder and Executive Director of Hub New Music, the Boston-based chamber quartet that has been making waves in the national contemporary music scene.
Under his leadership, Hub New Music has commissioned projects with leading contemporary composers including Hannah Lash, Christopher Cerrone, Takuma Itoh, Robert Honstein, Kati Agocs, Nina C. Young, Jason Treuting, Eric Nathan, and the composer/collective Oracle Hysterical. He has also developed collaborations with Boston's Urbanity Dance, the Silk Road Ensemble's Kojiro Umezaki, The Celebrity Series of Boston, Peabody Essex Museum (Salem, Mass.), and the Asia–America New Music Institute (AANMI). The ensemble maintains an active touring schedule, performing roughly 25 concerts per season, and has been featured by the Boston Globe, WQXR (NYC), WFMT (Chicago), The New York Times, WBUR (Boston), Houston Chronicle, and The New Yorker, among others.
As an educator, Avitabile focuses on empowering students with skills to build the arts organizations of tomorrow as both a flutist and arts entrepreneur. His career development lectures translate the day-to-day experiences of running an artist-led organization to a series of workshops covering topics such as self-management, non-profit development, and commissioning new work. He has worked with students on arts entrepreneurship and contemporary music at institutions such as Harvard University, the University of Michigan, University of Colorado–Boulder, New England Conservatory, University of Texas at Austin, and others.
Michael Avitabile holds a Bachelor of Music from the University of Michigan and a Master of Music from New England Conservatory, graduating with top honors at both institutions. At Michigan, he was a Shipman Scholar, the highest award given to any incoming student university-wide. While at NEC, he was awarded the John Cage Award for Outstanding Contribution to Contemporary Music. His principal teachers were Amy Porter, Paula Robison, Marianne Gedigian, and Elizabeth Rowe. In his free time, Avitabile develops recipes, practices yoga, and drinks too much coffee. He is a Powell Flutes Artist.
Nicholas Brown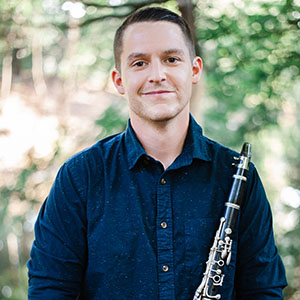 Originally from Portland, ME, Nicholas Brown is second/bass clarinet with the Boston Lyric Opera, principal clarinet with the New Bedford Symphony Orchestra, and principal clarinet of Phoenix Symphony. He has performed with such groups as Chicago Symphony, Boston Philharmonic, and New World Symphony, and regularly appears with other orchestras throughout New England.
Brown has appeared as soloist with the Boston Pops Orchestra and Symphony Nova, and will perform Mozart's Clarinet Concerto at the Boston Festival Orchestra's inaugural concert. In 2019, he was a featured musician with the Celebrity Series of Boston's Concert for One installation. He was the recipient of the 2019 Harold Wright Merit Award (Boston Woodwind Society), Jean and Harvey Picker Prize (Bay Chamber Concerts), Award for Woodwind Excellence (Boston University), and Emily K. Rand Scholarship (Portland Rossini Club). Beyond his solo engagements, Brown has been a Festival Artist at the Newport Music Festival in addition to performing in major concert halls throughout the world.
A dedicated educator, Brown teaches at the North End Music and Performing Arts Center, Natick Public Schools, and Wayland Public Schools, where his students have been selected to participate in Massachusetts District and State Festivals. He has given talks, lectures, and master classes throughout New England.
Nicholas Brown holds a Bachelor of Music from Boston University and a Master of Music from New England Conservatory of Music. His primary mentors include Thomas Martin, John Bruce Yeh, David Martins, and Ethan Sloane.
Alyssa Wang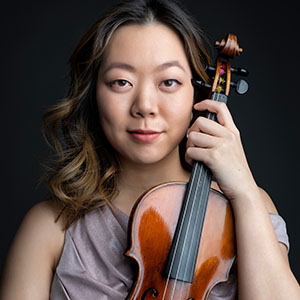 Alyssa Wang is a passionate violinist and an emerging conductor who earned a bachelor's degree from Carnegie Mellon University under the tutelage of Andres Cardenes (Concertmaster, Pittsburgh Symphony Orchestra, 1989–2010). In 2016, she won the Carnegie Mellon School of Music Concerto Competition, the Pittsburgh Female College Association Prize, the Carnegie Mellon Women's Award, and the Senior Leadership Award. She won first prize in the Silbermann Chamber Music Competition and was the recipient of the 2015 Presser Undergraduate Scholar Award, Harry G. Archer Award, and Paul J. Baum Fund Award.
Wang has soloed with the Carnegie Mellon Philharmonic and the Pittsburgh Philharmonic. During her senior year at Carnegie Mellon, she helped to run the Heritage Scholarship Campaign, which raised over $180,000 to start a substantial undergraduate merit scholarship for future School of Music students. Wang is also an Andrew Carnegie Scholar.
Wang completed two master's degrees, in violin performance and conducting, at the New England Conservatory. She has won fellowships as a violinist with the Grammy-nominated ensemble A Far Cry and the Boston Chamber Music Society. Her primary violin teacher at NEC was Malcolm Lowe (Concertmaster, Boston Symphony Orchestra). During the summers she has been assistant conductor for the Colorado College Summer Music Festival with Scott Yoo and a conducting fellow at Eastern Music Festival under the tutelage of Gerard Schwarz. In the summer of 2019, she was assistant conductor to Paul Polivnick at the New Hampshire Music Festival.
Wang is excited for the artistic journey ahead with HNM. In her spare time she enjoys social dancing, photography, and dim sum.
Jesse Christeson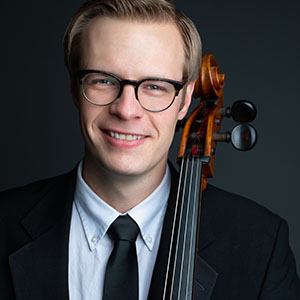 Versatile cellist Jesse Christeson wears a number of musical hats around the country. In addition to performing with Hub New Music, he is principal cellist of the Huntsville (AL) Symphony. He held the same position in the Mississippi Symphony for several years prior. Christeson is a founding member of the Inaugural Piano Trio in Jackson, MS, and collaborates with New JXN. In Boston, he often performs with start-ups Phoenix and Cape Cod Chamber Orchestra.
For several years, Christeson was active as a multi-faceted performer and teacher in Houston, TX. In addition to working as a freelance cellist, he performed as a vocalist in the Houston Grand Opera and Bach Society of Houston choruses, and taught a cello studio at the Rice Preparatory Program and local public schools.
Jesse Christeson has frequently spent summers performing at the Tanglewood Music Center, where he featured in the New Fromm Players and orchestra festival. His other summer engagements have included the festivals of Aspen, Brevard, and the National Orchestral Institute. Christeson holds an M.M. from Rice University (studio of Norman Fischer), and a B.M. from Stetson University in DeLand, FL, where he studied cello (studio of David Bjella), voice, and philosophy.
Robert Honstein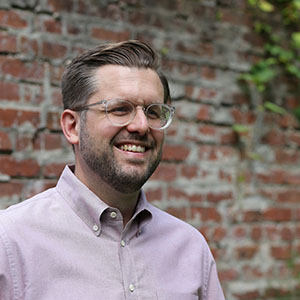 Celebrated for his "waves of colorful sounds" by The New York Times and "smart, appealing works" by The New Yorker, Robert Honstein is a New York–based composer of orchestral, chamber, and vocal music. Raised in New Jersey, Honstein creates music rooted in performance and personal narrative. His background as a pianist and singer brings a deep love of instrumental and vocal practice to collaborations with leading musicians from around the world.
Fueled by an omnivorous musical appetite, Honstein's compositions are noted for their "dry humor" (San Francisco Classical Voice), "breathless eruptions" (The New York Times) and "devilishly fun writing" (The Arts Fuse). At times "profoundly moving" (Shepherd Express) and "genuinely touching" (Chicago Classical Review), his work combines a fascination with narrative, environment, and everyday experience to create "deeply contemplative" (Bandcamp) works that probe the vicissitudes of contemporary life from the banal to the sublime. A growing interest in storytelling, expression, and physicality infuses his work with a direct, evocative sensibility that is equal parts riotous frenzy, austere lyricism, and minimalist-tinged romanticism.
Leading orchestras, ensembles and soloists from around the world have performed Honstein's music, including the Albany Symphony, Dayton Philharmonic, Orchestre Symphonique du Mulhouse, Slovenian National Theater Opera and Ballet Ljubljana, American Composers Orchestra, eighth blackbird, Ensemble Dal Niente, Present Music, Pittsburgh New Music Ensemble, Third Angle New Music, New Music Detroit, Quince, Mivos Quartet, Del Sol Quartet, Argus Quartet, Hub New Music, Chatterbird, TIGUE, New Morse Code, Colin Currie, Theo Bleckmann, Doug Perkins, Michael Burritt, Karl Larson, Michael Compitello, and Ashley Bathgate. His keen interest in interdisciplinary collaboration has led to projects with artists across many disciplines, including photographer Chris McCaw, projection designer Hannah Wasileski, graphic designer Laura Grey, and director Daniel Fish. Honstein's music has also been choreographed by numerous dance companies such as the Cincinnati Ballet, Nancy Karp and Dancers, Backhaus Dance, Urbanity Dance, and Frame Dance.
Honstein has received awards, grants, and recognition from Carnegie Hall, the Barlow Foundation, Copland House, the New York Youth Symphony, ASCAP, the Albany Symphony, New Music USA, and the League of American Orchestras. His work has been featured at festivals around the United States, including the Tanglewood Music Center, the Cabrillo Festival of Contemporary Music, and the Bang on a Can Summer Institute. He has also received residencies at the MacDowell Colony, Copland House, and I-Park.
Honstein is a founding member of the New York–based composer collective Sleeping Giant, a group of "five talented guys" (The New Yorker) that are "rapidly gaining notice for their daring innovations, stylistic range and acute attention to instrumental nuance" (WQXR). The collective's projects have included evening-length works for eighth blackbird, Ensemble ACJW and the Deviant Septet as well as a multi-year residency with the Albany Symphony. Hand Eye for eighth blackbird was released on Cedille Records to critical acclaim, while the Giants' most recent project, Ash, was released on New Amsterdam Records with cellist Ashley Bathgate.
With a commitment to building community around the music of our time, Honstein co-founded Fast Forward Austin, an annual marathon new music festival in Austin, TX, and Times Two, a Boston-based concert series that paired artists from diverse backgrounds in a laid-back, accessible context. As an educator, Honstein has participated in outreach projects around the country, while also serving as program manager and composition faculty at NYU, Steinhardt.
His debut album, RE:You, was released by New Focus Recordings in 2014; his second album, Night Scenes from the Ospedale, a collaboration with the Sebastians, was released on Soundspells Productions in 2015. Honstein's 2018 album An Economy of Means, featuring Doug Perkins and Karl Larson, was released on New Focus Recordings. NPR included his piece "Pulse" from eighth blackbird's Hand Eye as one of their top 100 songs of 2016. "Pulse" was also featured by eighth blackbird during their performance on NPR's Tiny Desk concert series.
Robert Honstein recently completed "Juvenalia," a percussion concerto for Colin Currie and "Lost and Found," a work for prepared solo marimba, for Michael Compitello and a consortium of percussionists. His upcoming projects include new works for the Arx Duo, No Exit New Music Ensemble, and flutist Michael Avitable.
Carlos Simon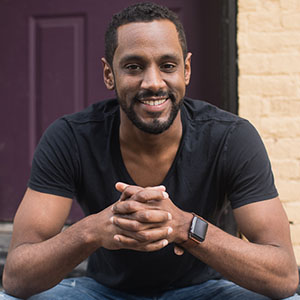 Composer Carlos Simon is a native of Atlanta, Georgia whose music ranges from concert music for large and small ensembles to film scores with influences of jazz, gospel, and neo-romanticism.
Simon is a recipient of the 2021 Sphinx Medal of Excellence, the highest honor bestowed by the Sphinx Organization, recognizing extraordinary classical Black and Latinx musicians. Along with a $50,000 career grant, Sphinx annually awards the Medals of Excellence to three early-career artists who demonstrate artistic excellence, outstanding work ethic, a spirit of determination, and an ongoing commitment to leadership and their communities. Simon's latest album, My Ancestor's Gift, was released on the Navona Records label in 2018. Described as an "overall driving force" by Review Graveyard and featured on Apple Music's Albums to Watch, My Ancestor's Gift incorporates spoken word and historic recordings to craft a multifaceted program of musical works inspired as much by the past as by the present.
As a part of the Sundance Institute, Simon was a Sundance/Time Warner Composer Fellow in 2018. His string quartet Elegy, honoring the lives of Trayvon Martin, Michael Brown, and Eric Garner, was recently performed at the Kennedy Center on the Mason Bates JFK Jukebox Series. With support from the US Embassy in Tokyo and US/Japan Foundation, Simon traveled with the Asia–America New Music Institute (AANMI) on a two-week tour of Japan in 2018, performing concerts in some of the most sacred temples and concert spaces in Japan, including Suntory Hall in Tokyo.
His other recent accolades include being a Composer Fellow at the Cabrillo Festival for Contemporary Music, winning the Underwood Emerging Composer Commission from the American Composers Orchestra in 2016, the Marvin Hamlisch Film Scoring Award in 2015, and the Presser Award from the Theodore Presser Foundation in 2015. He has also served as a contributing arranger for Rachel Barton Pine Foundation's Music by Black Composers series for violin.
Simon's recent commissions have come from the Philadelphia Orchestra, Washington National Opera, Reno Philharmonic, the American Composers Orchestra, Arizona State University Symphony Orchestra, Irving Klein String Competition, Morehouse College (celebrating its 150th anniversary), the University of Michigan Symphony Band (celebrating the university's 200th anniversary), and Albany Symphony's Dogs of Desire (American Music Festival); and he served as Young Composer-in-Residence with the the Detroit Chamber String and Winds in 2016.
Simon's music has been performed by Tony Arnold, the Third Angle New Music Ensemble, Hub New Music Ensemble, the Asian–American New Music Institute, the Flint Symphony, the Color of Music Festival, University of North Texas Symphony Band, University of Miami Symphony Band, Georgia State University Wind Ensemble, and many other professional performance organizations. His piece "Let America Be America Again," with text by Langston Hughes, will be featured in a PBS documentary chronicling the inaugural Gabriela Lena Frank Academy of Music. Simon has been on the music faculty at Spelman College and Morehouse College in Atlanta, Georgia and is now an assistant professor at Georgetown University.
Acting as music director and keyboardist for Grammy Award winner Jennifer Holliday, Simon has performed with the Boston Pops Symphony, Jackson Symphony, and St. Louis Symphony. He has toured internationally with soul Grammy-nominated artist Angie Stone, and performed throughout Europe, Africa, and Asia.
Simon holds a doctoral degree from University of Michigan, where he studied with Michael Daugherty and Evan Chambers, and holds degrees from Georgia State University and Morehouse College. He has studied in Baden, Austria at the Hollywood Music Workshop with Conrad Pope and at New York University's Film Scoring Summer Workshop.
A member of ASCAP (American Society of Composers, Authors and Publishers), Carlos Simon was named one of the Composers to Watch in 2015, and attended the ASCAP Film Music Workshop in Los Angeles in 2019. He is also an honorary member of Phi Mu Alpha Music Sinfonia Fraternity and a member of the National Association of Negro Musicians, Society of Composers International, and Pi Kappa Lambda Music Honor Society. His compositions have been published by the Gregorian Institute of America (GIA) Publications and Hal Leonard Publications.
Program Notes
Soul House (2017)
Robert Honstein (b. 1980)
In the ancient world, a Soul House was a model home buried with the dead. Intended as a vessel for the soul to inhabit in the afterlife, and often stocked with clay food, tiny furniture, and even small servant figurines, these otherworldly structures provided sustenance and comfort, a connection to loved ones, and a spiritual home as the soul moved beyond the material world.
While writing Soul House, I thought about these ancient funerary objects and began to think of my own childhood home as a Soul House. Not for my soul, but rather for memories of family and childhood. Walking through the house now, it's impossible not to feel decades of memory infusing the house itself, seeping into the walls and floorboards, the air and soil. It is a constant reminder of all that life and living we shared. With that feeling in mind, I wrote this piece: a love letter to the house I grew up in.
Cast in nine movements, the piece is a series of vignettes depicting various parts of the house with little dramas unfolding along the way. Each movement is a fragmented story representative of feelings and memories from that part of the house: a contemplative nook in a sun-filled Bay Window; a cozy Alcove; the rush of action through the Hallway down the Stairs and a triumphal arrival on the Landing; the running, chasing play of the Backyard; the morning rush (and endless struggle for the front seat) of the Driveway; a stately old Copper Beech, majestic and noble in its rooted splendor; and finally a Secret Place, somewhere just for myself, where all the dreams and frustrations of childhood mingle in private, a wondrous cocktail of confusion and delight.
—Robert Honstein
Soul House was commissioned by Hub New Music with the generous support of the Cricket Foundation and premiered January 22, 2018 by Hub New Music at Good Shepherd Chapel, Seattle, WA.
Requiem for the Enslaved (2020)
Carlos Simon (b. 1986)
Almost an entire year has passed since I first set foot on the Georgetown University campus as a candidate for professorship in the Performing Arts Department—a hope and dream of my ancestors. Since being hired as an assistant professor, I have grown to love the Georgetown University community and culture. It is a community that is steeped in a tradition of excellence and a rich history. In learning of the university's involvement in slavery, I am deeply grateful for the collective efforts taken to understand and attempt to reconcile its tainted past. Now as a member of the Georgetown University community, I wish to join in the journey of expanding the discussion.
This musical piece honors the men, women, and children owned and sold by the University. Requiem for the Enslavedfeatures music that evokes the spirit of those in captivity featuring the internationally-known new music ensemble Hub New Music, rapper and spoken word artist Marco Pavé, and trumpeter Jared Bailey. Using the musical structure of a liturgical mass, Requiem for the Enslaved artistically explores the sacred and historical ideology of the sale of those enslaved by Jesuits by infusing the music of the Catholic Church and African American spirituals into an original composition.
—Carlos Simon
Requiem for the Enslaved was commissioned by Georgetown University. 
---
With Thanks
We gratefully acknowledge these foundations and endowments for their generosity and support of the Williams Center for the Arts' artistic and educational programs for audiences in the greater Lehigh Valley and beyond.
Dexter F. and Dorothy H. Baker Foundation
James Bradley Memorial Fund
Brunswick Fund
Mahlon and Grace Buck Fund
Class of 1973 Senior Fund
Croasdale Fund
Elizabeth J. Grier Fund
Dr. Aaron Litwak '42 Fund
Alan and Wendy Pesky Artist-in-Residence Fund
Albert Seip Memorial Fund
Josephine Chidsey Williams Fund
Mid Atlantic Arts Foundation
National Endowment for the Arts
Pennsylvania Council on the Arts
Friends of the Williams Center
---
Williams Center for the Arts Staff
Hollis Ashby
Artistic and Executive Director
Williams Center Performance Series
Timothy Frey
Sound Engineer
Jennifer Kelly
Lafayette College Director of the Arts
Andrew Maciula
Production Manager
Michiko Okaya
Director Emerita
Lafayette College Art Galleries and Collections
Jennifer Philburn
Director of Arts Marketing
Allison Quensen Blatt
Director of Operations and Patron Services
Joyce Wallace
Administrative Assistant
Lizzie Gumula '22
Williams Center Fellow
Bruuk Zewdie '23
Williams Center Fellow
---
Stay in Touch
Join our email list and never miss a beat, or let us hear from you via the phone numbers below.