Lafayette College Theater Department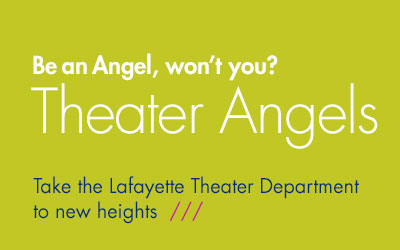 The Department of Theater presents faculty-directed and -designed productions, featuring our students on stage and behind the scenes, as well as student-directed projects. All performances take place in Weiss Theater in Buck Hall, on the Lafayette College downtown arts campus, located at 219 N. Third St. (at Snyder St.), Easton.
2023-2024 Season: Reimagining the Classics
A Midsummer Night's Dream
By William Shakespeare
Directed by Jarrod Yuskaukus
Thursday–Saturday, October 19–21, 7:30 p.m.
Sunday, October 22, 2 p.m.
In Shakespeare's classic comedy of magic and mayhem, mischievous fairies put love to the test during a chaotic romp in the Athenian woods. $10
---
Miracle on 34th Street
Based on the film by George Seaton
Directed by Michael O'Neill
Thursday–Saturday, November 30–December 2, 7:30 p.m.
Sunday, December 3, 2 p.m.
This 1947 Lux Radio Theater broadcast of the beloved Christmas film Miracle on 34th Street invites audiences to believe in Santa Claus and the magic of the holiday season. $10
---
The Book Club Play
By Karen Zacarías
Directed by Mary Jo Lodge
Thursday–Saturday, February 29–March 2, 7:30 p.m.
Sunday, March 3, 2 p.m.
In this hit comedy about books and the readers who love them, a book club becomes the subject of a famous documentary filmmaker's work with hilarious results. $10
---
Directing Class Performances
Friday, April 19, 7:30 p.m.
Saturday, April 20, 2 p.m.
Students enrolled in THTR 314, Stage Direction, present scenes drawn from American classics like Eugene O'Neill's Ah Wilderness! FREE
---
Capstone Performances
Friday–Saturday, April 26–27, 7:30 p.m.
Sunday, April 28, 2 p.m.
The class of 2024's theater majors showcase their skills in performance, design, technical direction, and stage management. FREE
---